The Fighting Spirit, The Art of Winning Your Fight, by Mary McAlary and George Foreman, III
To anyone and everyone who wanted to give up but didn't, who hit rock bottom and came back swinging_or anyone who every wanted to_this book is for you.
George Foreman III teams up with Mary McAlary, a mom and grandmother fighting MS, to co-author the ultimate motivational playbook.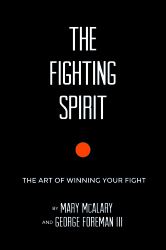 Go Green for Wellness: Smoothies, Juices, Green Recipes
Practical Advice for Achieving Good Health
by Mary McAlary

McAlary provides her readers with practical advice and valuable information about achieving great health with healthy whole foods. Each recipe offers a recipe variation and a note explaining the benefits of key ingredients used to make the reader understand why each fruit or vegetable is ideal for maintaining a healthy lifestyle.



Available at many local bookstores, Whole Foods Markets and online at:

Mary McAlary Books